Needle Tower
Jump to navigation
Jump to search
Read here about the Needle Tower, one of Kenneth Snelson's most well known works, partially due to its location on the Washington DC Mall.
Overview
The Needle Tower, 1968,is composed of aluminum cylinders & stainless steel cable. It measures 60 x 20 x 20 feet, 18.2 x 6 x 6m. It belongs to the collection of the Hirshhorn Museum & Sculpture Garden, Washington, D.C. and stands outdoors on the Washington Mall.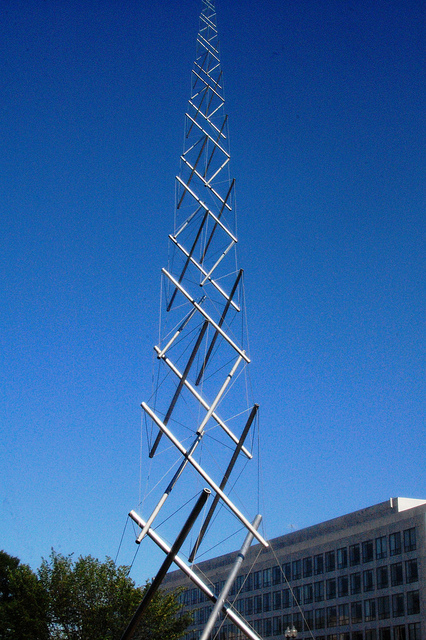 Video of 15 people Raising the Needle Tower in 2010
In this video, 15 members of the museum staff up-right the tower following some conservation work, in Hirshhorn Plaza.
Animation of Construction of a Needle Tower
This video animation shows a Needle Tower-like construction. The animation differs in that it is 50% taller (90 feet) and the top cylinders do not taper in size.
Needle Tower as Inspiration for Biotensegrity
The Needle Tower is documented as being the inspiration for researchers to seek in tensegrity structure an explanation for biological mechanical structure and information propagation. See Levin.
Links and References
Kenneth Snelson's website, http://www.kennethsnelson.net/
Needle Tower on Kenneth Snelson's website, http://www.kennethsnelson.net/sculpture/outdoor/21.htm
Hirshhorn Museum and Sculpture Garden page on Needle Tower, http://hirshhorn.si.edu/visit/collection_object.asp?key=32&subkey=12691