Skylon
Jump to navigation
Jump to search
Skylon
In 1951, a temporary structure called the Skylon was designed by architects Powell and Moya. The BBC's "How We Built Britain" wrote, "more sculpture than building, it was part Zeppelin, part-rocket, part-minaret, and floated like an up-ended airship above the South Bank. Perched precariously on three 'legs', it was attached to a net of cables; it was unclear whether these supported its gravity-defying architecture, or anchored it to the ground. Dramatic by day, Skylon was even more radical, and exciting at night. Within recent memory, London's busy skyline had been the victim of the black-out. Only searchlights were permitted, their giant columns of light streaking the sky, hunting enemy bombers and illuminating air balloons above. Now one bold beam of light hovered above all, some 250 feet tall, a symbol of victory and faith in Britain's future." [2]
Located between Westminster Bridge and Hungerford Bridge, it consisted of a steel latticework frame, pointed at both ends and supported on cables slung between three steel beams. It was 300 foot high, cigar-shaped, aluminium-clad, suspended almost invisibly by three cables, that made it seem to float 40 feet above the ground. The partially constructed Skylon was rigged vertically, then was hoisted higher when deployed. Jáuregui quotes Cruickshank: "By an amazing stroke of genius [Felix Samuely]] arranged a system of hydraulic jacks underneath the three smaller pylons. Once the whole structure was assembled, he pumped up these jacks and raised the pylons. This put tension or stresses into all the cables and by doing that the whole thing became a stressed structure. This reduced the number of wires needed to anchor the Skylon and halved the amount of oscillation in the structure."
The architects' design was made structurally feasible by the engineer Felix Samuely who, at the time, was a lecturer at the Architectural Association School of Architecture in Bedford Square, Bloomsbury. The base was nearly 15 metres (50 feet) from the ground, with the top nearly 90 metres (300 feet) high. The frame was clad in aluminium louvres lit from within at night. Both the name and form of the Skylon perhaps referred back to the Trylon feature of the 1939 World's Fair. Mrs A G S Fidler, wife of the chief architect of the Crawley Development Corporation, suggested the name and said she derived it from skyhook and nylon. [1]
In spite of its popularity with the public, the cost of dismantling and re-erecting the Skylon elsewhere (£30,000) was deemed too much for a government struggling with Post-War austerity. Skylon was scrapped in 1952 on the orders of Winston Churchill when the rest of the exhibition was dismantled; it was toppled into the Thames, cut into pieces and apparently turned into ashtrays. [1]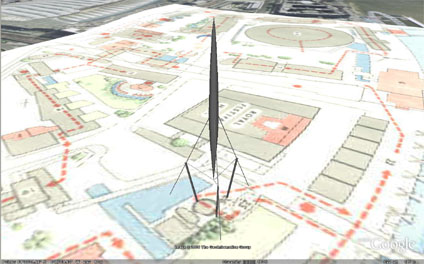 References
[1] "Skylon", Wikipedia, accessed 7 August 2010
[2] BBC How We Built Britain website accessed 7 August 2010